The Akamina Wave Probe Head is designed to work with the AWP-24 and AWP-300 Series of Wave Height Gauge electronics. The probe head is the part of the Wave Height Gauge that is partially submerged in water to measure wave heights or water levels.
30cm, 60cm 100cm, 150cm, 200cm
Wave Probe Heads
Design features:
no electrical interference with other probes or instrumentation
available in standard lengths of 30 cm, 60 cm, 100 cm, 150 cm and 200 cm
non-standard lengths from a few centimeters to meters are available upon request
a variety of different probe heads with different lengths can be used with the same AWP-24 / AWP-300 electronics
custom designed, easy to use clamp for connecting the probe to the wave probe stand
height adjustable sensor clamp on 100 cm, 150 cm and 200 cm probes
support rod manufactured from stainless steel
support and sensor wire clamps manufactured from hard anodized aluminum
the probe head can be attached to a fixed structure or to a moveable structure such as a tripod. The mounting clamp is provided to facilitate mounting. The probe head itself is connected to the BNC connector on the AWP-24 / AWP-300 Enclosure using the coaxial cable.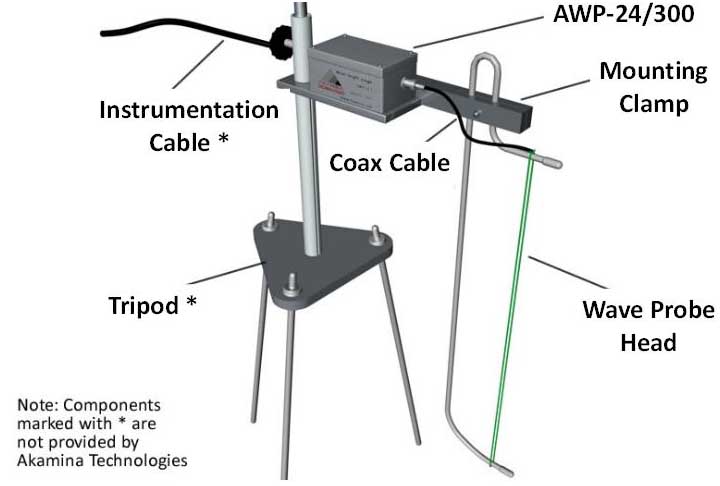 Additional information on Akamina's Wave Height Gauge is available: